WMC 2018 - an event that is waiting!
17 to April 19, 2018 in Moscow, an international exhibition of machines and equipment for mining, processing and transportation of minerals took place, within which promo stand is presented of the 25th World Mining Congress (WMC) will be held from June 19 to 22 in Astana.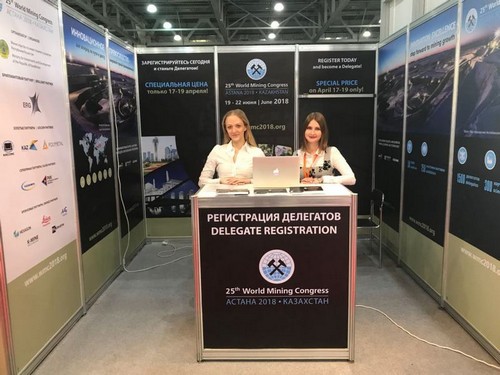 The organisers of the Congress will present to the participants and visitors of the Moscow exhibition an expanded business program of the WMC 2018, and anyone can register for participation at the Congress.
It should be noted that a unique opportunity for all present was to become one of the participants of the 25th World Mining Congress, during which the forecasts of the development of the global mining industry will be presented, as well as the prices for metals.
In addition, the leading institutions of the mining and metallurgical complex, along with key suppliers and service companies, will present advanced mining developments, leading experts of the mining industry and representatives of related industries from all over the world will make presentations.
Within the framework of the 25th anniversary World Mining Congress a series of thematic sessions will be held that will cover the whole chain of mining and metallurgy: from exploration and production to enrichment, from risk assessment to attracting international financing. In parallel with the conference there will be an international specialized exhibition of equipment and technologies for the mining industry, as well as a number of industrial excursions to familiarize participants with scientific institutions and industrial enterprises of Kazakhstan.
The World Mining Congress (WMC) is a world mining industry event that has been held since 1958 with a frequency of once every 2-3 years, and brings together specialists and scientists from different countries working in the field of development of deposits of solid minerals. Over the history of its conduct, the number of participating States of the Congress has increased from 10 to 49 and continues to grow.